Catalytic Converters & Battery Scrap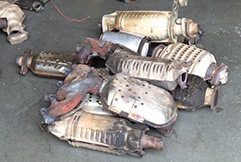 EH Metal Recycling purchases Catalytic Converters and Battery Scrap (Auto, Truck, Industrial). If you have a small quantity of Catalytic Converters or Battery Scrap, please bring them to our facility or call 360-334-6005 for more details.
If you have larger quantities and are a commercial seller, please call our Catalytic and Battery Program Manager, Josh Girod at 360-334-6005.
EH Metal Recycling provides prompt payment, accurate grading, and very competitive pricing on your Catalytic Converter and Battery Scrap. We look forward to hearing from you!
Batteries
We accept a variety of batteries including, but not limited to: Car batteries, golf cart batteries, UPS batteries, industrial fork-lift batteries, motorcycle batteries, and commercial batteries. These can be regular lead acid, sealed lead acid, gel type, or absorbent glass mat (AGM) batteries. These are recycled by grinding them, neutralizing the acid, and separating the polymers from the lead. The recovered materials are used in a variety of applications, including new batteries...
We pay by the pound, which will usually get you a better price!
QUESTIONS? GIVE US A CALL AT: 360.334.6005 E-MAIL This email address is being protected from spambots. You need JavaScript enabled to view it.